publish:2023-06-24 22:40:55 views :134
publish:2023-06-24 22:40:55

134
APPLICATION OF WASHERS BONDED WITH EPDM RUBBER
Washer with EPDM gasket structurally consists of two elements - steel washer and gasket made of ethylene propylene diene monomer, one of the types of synthetic weather-resistant durable rubber EPDM, which has high elasticity and stable consistency during pressing.
The advantages of using weather-resistant rubber EPDM as a sealing gasket are indisputable in comparison with simple rubber: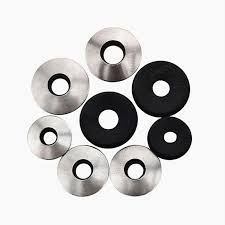 EPDM rubber is very flexible and does not flow at the pressure. Due to this, the gasket does not flatten forcibly under the pressure washer.
EPDM gasket does not change its shape over a long period of time, which ensures perfect tightness.
Gasket made of EPDM fits noticeably better even when screwing in the roofing screws at an angle.
EPDM contains no sulfur compounds and therefore resistant to ultraviolet radiation.
EPDM benefit is not to pollute the runoff rainwater.
Sealer EPDM has minimal temperature deformation and retains basic performance in the temperature range of −40°C ... +90°C. Even if the gasket freezes or overheats, its elasticity and flexibility will remain in its original form as opposed to conventional rubber.


The EPDM gasket is firmly anchored to the steel washer by vulcanizing. The steel part of the washer has an annular shape and is slightly concave, which allows the fastener to adhere securely to the base surface and not to spoil the substrate.
Such washers are designed to strengthen and seal the fixing unit. Bonded washers are the cost-effective solution for roofing screw connection. The most common area of application - the attachment of roll and sheet materials for external, such as roofing, work.