publish:2023-09-28 14:36:57 views :92
publish:2023-09-28 14:36:57

92
Why Choose Corrosion-Resistant Self-Drilling Screws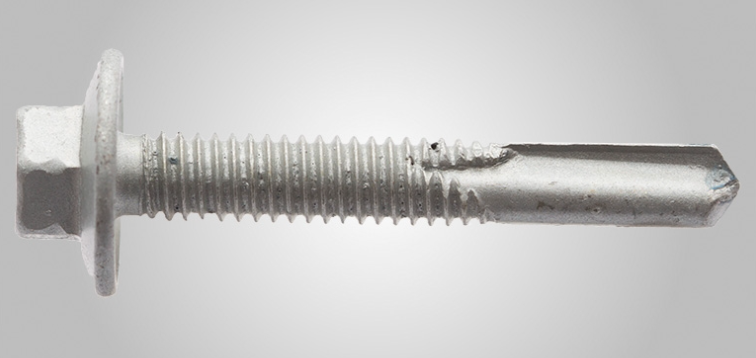 Fastening sheet metal is a technical process that not only requires expertise but also the most optimal screws – specifically self-drilling sheet metal screws. These screws feature sharp threaded shanks and tips that pierce easily through solid metal surfaces and other sturdy materials.
Self-drilling sheet metal screws come with pointed drilling tips designed to penetrate metal without the need for pre-drilled pilot holes.
Without the need for pilot holes, self-drilling screws save installation time and eliminate the extra cost of labor and drill bits. This cost-saving feature and additional advantages make them an excellent choice for metal building construction.
Features to Look Out for When Purchasing Self-Drilling Sheet Metal Screws
Like any hardware, self-drilling sheet metal screws come with various features. But whatever type of self-drilling sheet metal screw you need for your project, it's best to go for screws that have:
Corrosion-Resistant capability
As many tradies know, rusty screws are a real pain to deal with, not to mention an eyesore. Rust significantly reduces the strength of metal structural elements, reducing the thickness, and even leaving holes in components. It is also difficult to contain rust once it starts to spread, which is why self-drilling sheet metal screws with Corrosion-Resistant capabilities are in high demand.
As part of our quality assurance policy, all XIAOJUN Fasteners self-drilling screws are sent to SGS for regular Kesternich (7 cycles) and Spray Salt Tests (1000hrs). Going through regular testing demonstrates our commitment to quality and the results prove consistent product quality.
Corrosion-Resistant surface treatment
Self-drilling sheet metal screws with proper Corrosion-Resistant surface treatments last longer against the deteriorating effects that occur from weathering. Such exposure can negatively affect the performance of various components and increase the possibility of failure in the long term.
XIAOJUN Fasteners self-drilling sheet metal screws come with Class 3 Corrosion-Resistant coating – designed to cope with even the most challenging of environments.
Corrosion-Resistant accessories
Self-drilling sheet metal screws should also come with accessories that prevent the possibility of rust. XIAOJUN Fasteners' self-drilling screws come with optional pre-assembled weatherproof washers such as DEKS XIAOJUN®, 100% weather-sealed washers. These washers provide the perfect seal between the screw and sheet metal, are anti-static to reduce the possibility of rust and come with a 20-year warranty that will outlast the life of most sheets – a must for construction projects.

Find High-Quality Corrosion-Resistant Sheet Metal Screws at

XIAOJUN

Fasteners
At XIAOJUN Fasteners, we say that your sheet metal is only as long-lasting as the fasteners it is affixed to, which makes all the difference between a good or mediocre project.
XIAOJUN Fasteners offer an extensive range of Corrosion-Resistant self-drilling sheet metal screws in various lengths, sizes, and specifications, suitable for a host of applications.
Special features of our self-drilling sheet metal screws include:
·Patented Trident Self-Drilling Point.
·Designed to work with DEKS XIAOJUN® 100% Weather-Sealed Washers.
·AS3566 Class 3 Corrosion-Resistant surface treatment.
·SGS Certified: 1000hrs Spray Salt Test and 7 Kesternich Cycles.
As a leading supplier of sheet metal screws in Asia, we maintain strong relationships with dealers, distributors, and project managers, providing the correct fastening solutions for their needs.
For more information and inquiries about our products, contact us today.